A Peter Rabbit Themed Party in the Bag – Peter Rabbit Party Bag Ideas
The delightfully naughty and mischievous Peter Rabbit provides a great theme for a first birthday, Christening or baby shower party.  With this year being the 150th anniversary of Beatrix Potter herself, what better time is there to hold a bunny themed bash – it's a great way to celebrate your occasion in style. Here are our Peter Rabbit Party Bag Ideas.
Luck & Luck has a whole collection of Peter Rabbit themed tableware and decorations from invitations, bunting, stickers and paper bags to party cups, platters, plates and napkins.  In a matter of a few clicks, you can have a shopping basket full of everything you need to create a visual feast centred on a wonderful book by incorporating Peter and his garden antics into the ensemble.
Peter Rabbit was also the theme chosen by Prince George's grandmother Carole Middleton to celebrate his first birthday, so if it's fit for a Prince it will be perfect for your little bump or bunny. 
Save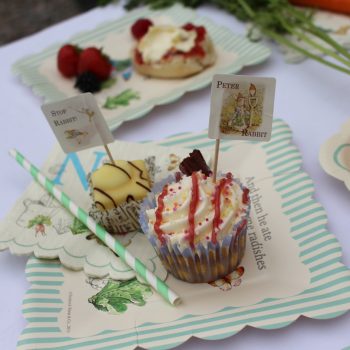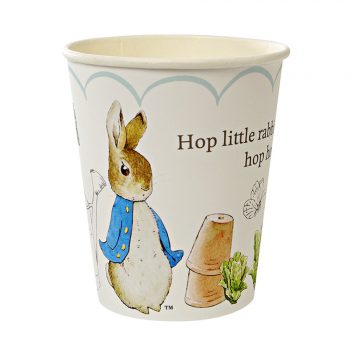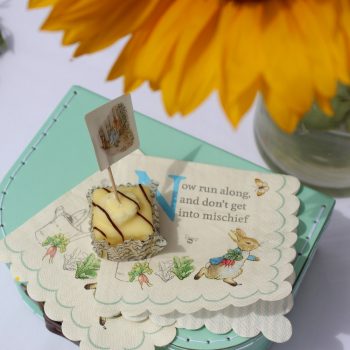 With a little touch of DIY (and some peter rabbit party bag ideas from Luck and Luck), you can make your Peter Rabbit themed celebration a wonderful, memorable classic.  Why not fill a wheelbarrow with ice and beer bottles for the adult guests and use our Peter Rabbit stickers and tags to make your very own food labels or place settings?  Use our grass runner to bring the outdoors inside or as a base to lay your very own homemade carrots on (orange sweets packed into a transparent carrot cone, tied off at the top with curled green ribbon).  Use fresh radishes and cabbages, Peter's favourite foods, and an assortment of unused (new/clean) flower pots filled high with oodles of fresh fruit to decorate the table.  As a centrepiece, why not put long sprouting carrots into a tall clear vase so their foliage cascades out of the top of it?  Controversial suggestion perhaps with radishes, not carrots, being part of Peter Rabbit's staple diet but they're all great ways of adding an extra dimension to your spread.  Our party cups can be used for drinks but can also be filled with dark cookie crumbs and carrot shaped biscuits dunked in the 'dirt' – or for a savoury take on it, baby carrots nestling in a bed of hummus.  Our party bags can be filled with a stack of homemade Peter Rabbit cookies and delights all bound together with our 'handmade with love' ribbon.
The possibilities are endless and are only limited by your imagination (or a browse through Instagram and google) but if you want to make sure that Luck is at the heart of your Peter Rabbit celebration, in every sense of the word, – our themed party accessories are only a hop, jump and skip away and there is plenty to nibble on.